I think it´s really fun with skincare and beauty products. Have tried many different brands and products over the years. Has taken me through the jungle, been tricked by several "miracle products" and with professional help learned more about my particular skin type. Good facecare products have always been important to me since I have a sensitive skin. However, it´s only the last year that I have switched to completely organic products, even for my body.
Why organic:
Safer for my skin and health, the planet and animals.
Our skin is our largest organ and what you put on it is just as important to your health and well-being as what you eat.
When it comes to skincare I don´t think I ever will use anything other then certified organic. I just don´t want any bullshit on/in my body, but it´s hard to know who to trust. The truth is, anyone can use the word "natural" on their packaging if they feature one or several natural ingredients (among synthetics, chemical preservatives and fillers). The sad reality is that there are absolutely no standards or certifiers controlling the use of the word "natural" in the marketplace so it has never been more important for consumers to read labels and research which companies are in fact trustworthy.
To be certified organic, on the other hand, demands total transparency and involves a rigorous verification process of the quality and handling of ingredients. Be sure to watch out for companies that claim to be organic but are not certified.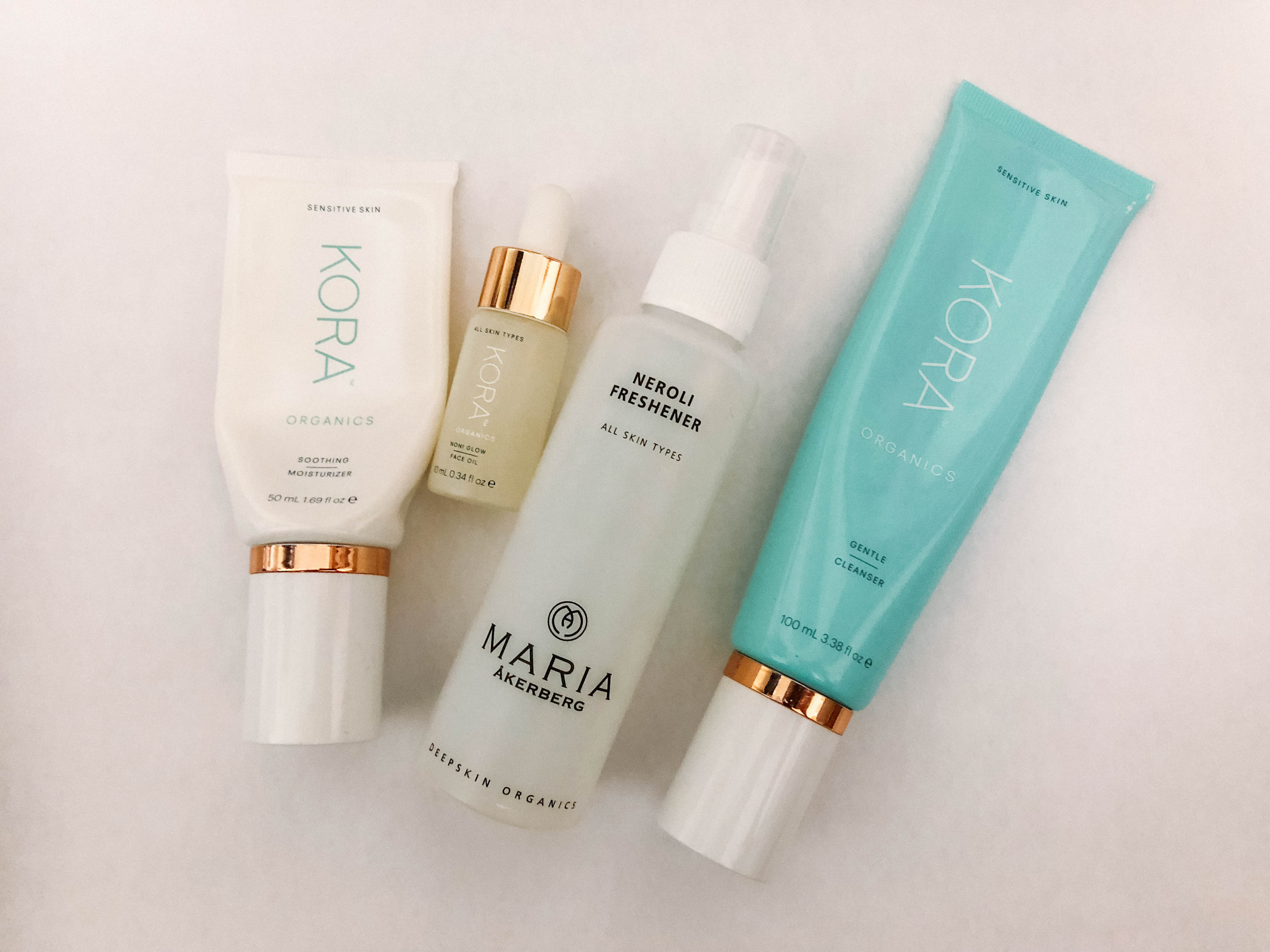 Skincare face:
In the morning I wash my face with a cleanser from Kora Organics. Spray my face with a freshener(neroli) from Maria Åkerberg. Then use the Noni glow face oil toghether with the face cream for sensitive skin both from Kora organics. (I used all Maria Å before but found that Kora workes better for my sensitive skin. Before that I made my own stuff by mixing organic oils. That was fun, and worked well for my skin, but I like my rutine right now better)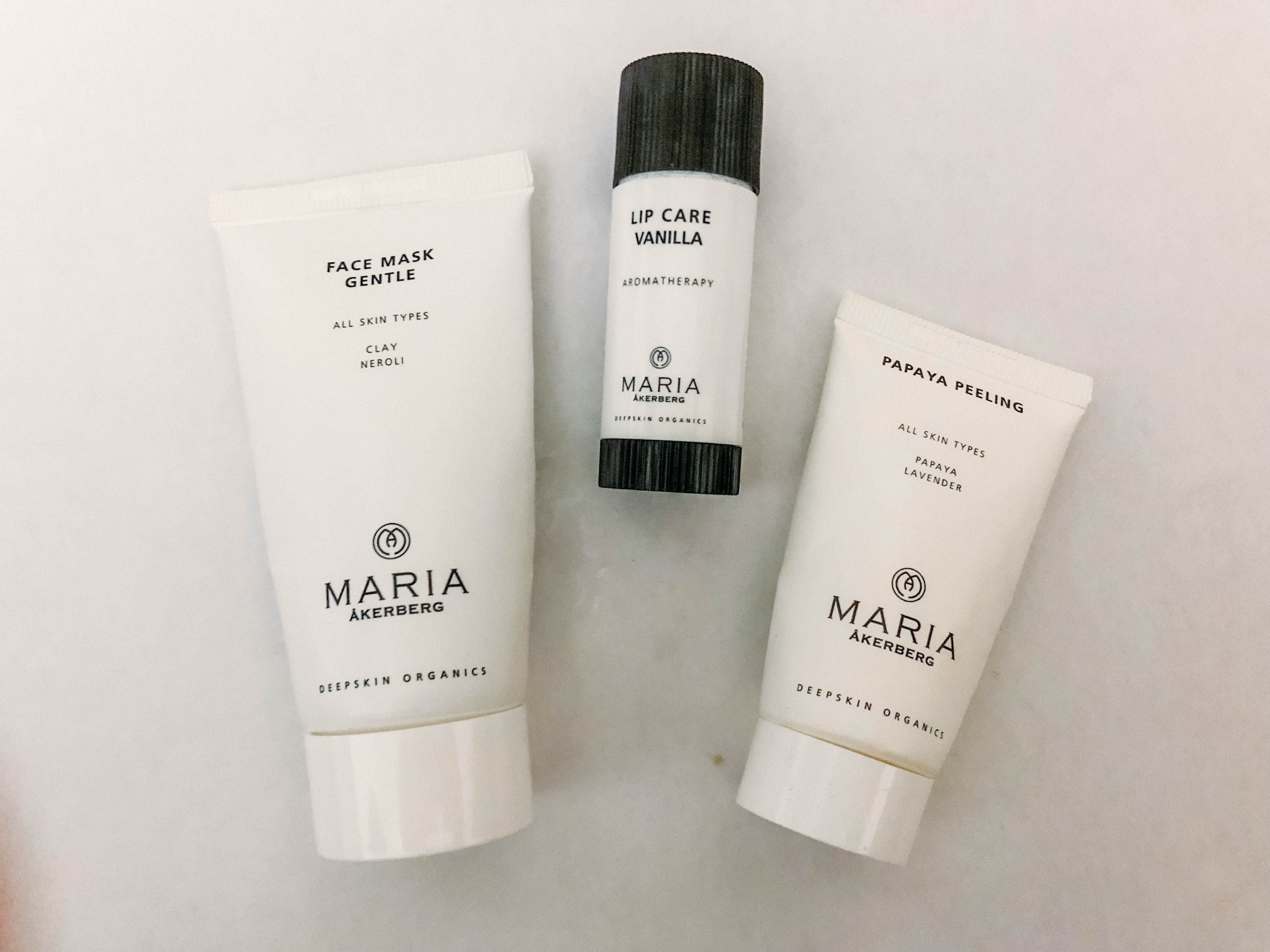 If my lips feels a bit dry I use a Lip care from Maria Åkerberg. (Use Vanilla right now but think, Liquorice is my favorite)
Once a week I use the papaya peeling and face mask gentle from Maria Åkerberg.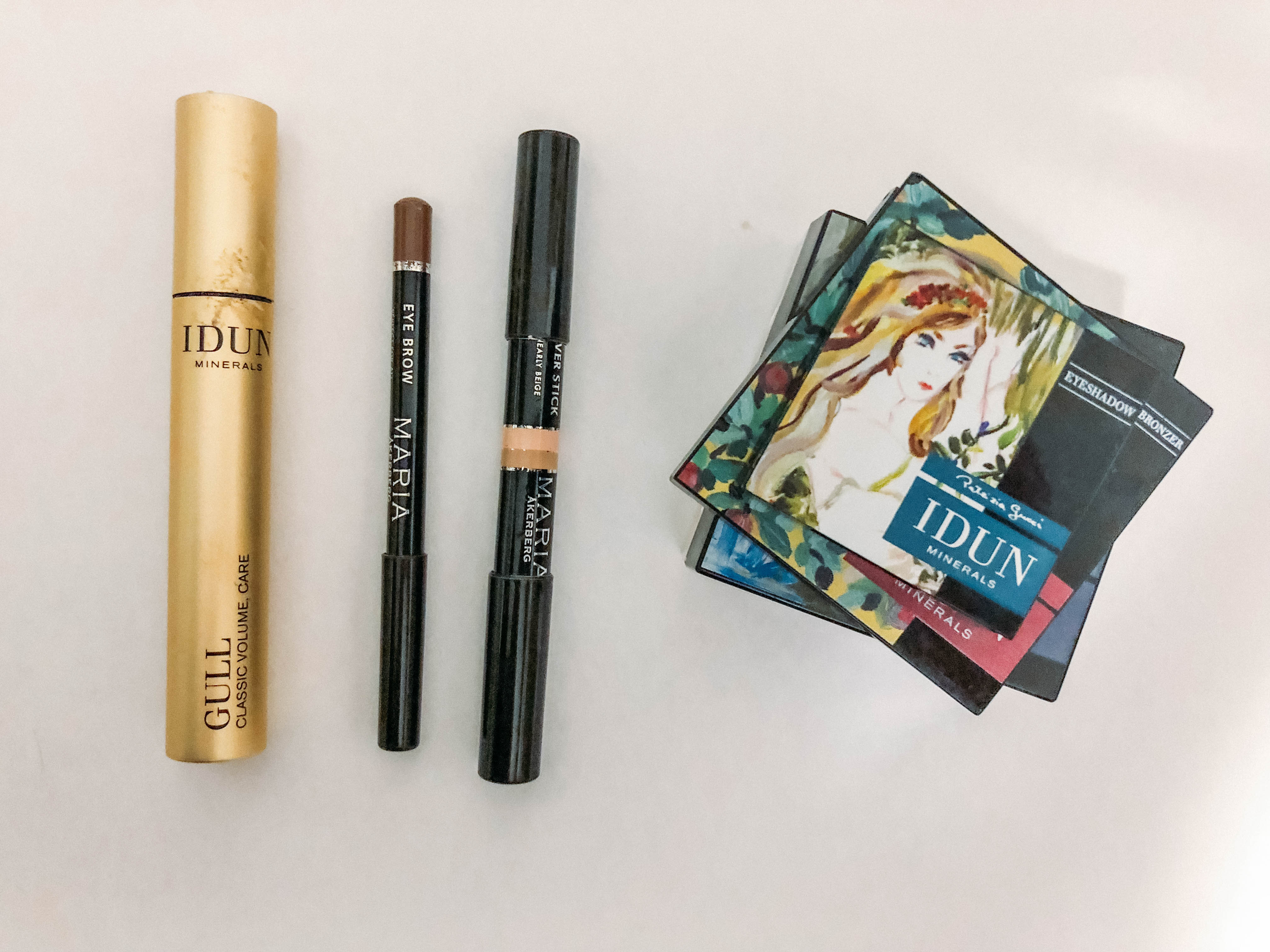 When it comes to make up I use an eyebrow pen and a concealer from Maria Åkerberg. Most days thats it but if I want to feel extra fancy I use a foundation powder, rough, bronzer, eye shadow and mascara from IDUN.
Skincare body:
In the shower I use the aleppo soap or any other organic soap for washing. Right now we have one from Burt´s bees. I also scrub my body with a round brush from Iris Hantverk every morning. Dry or in the shower depending on time, baby and mood.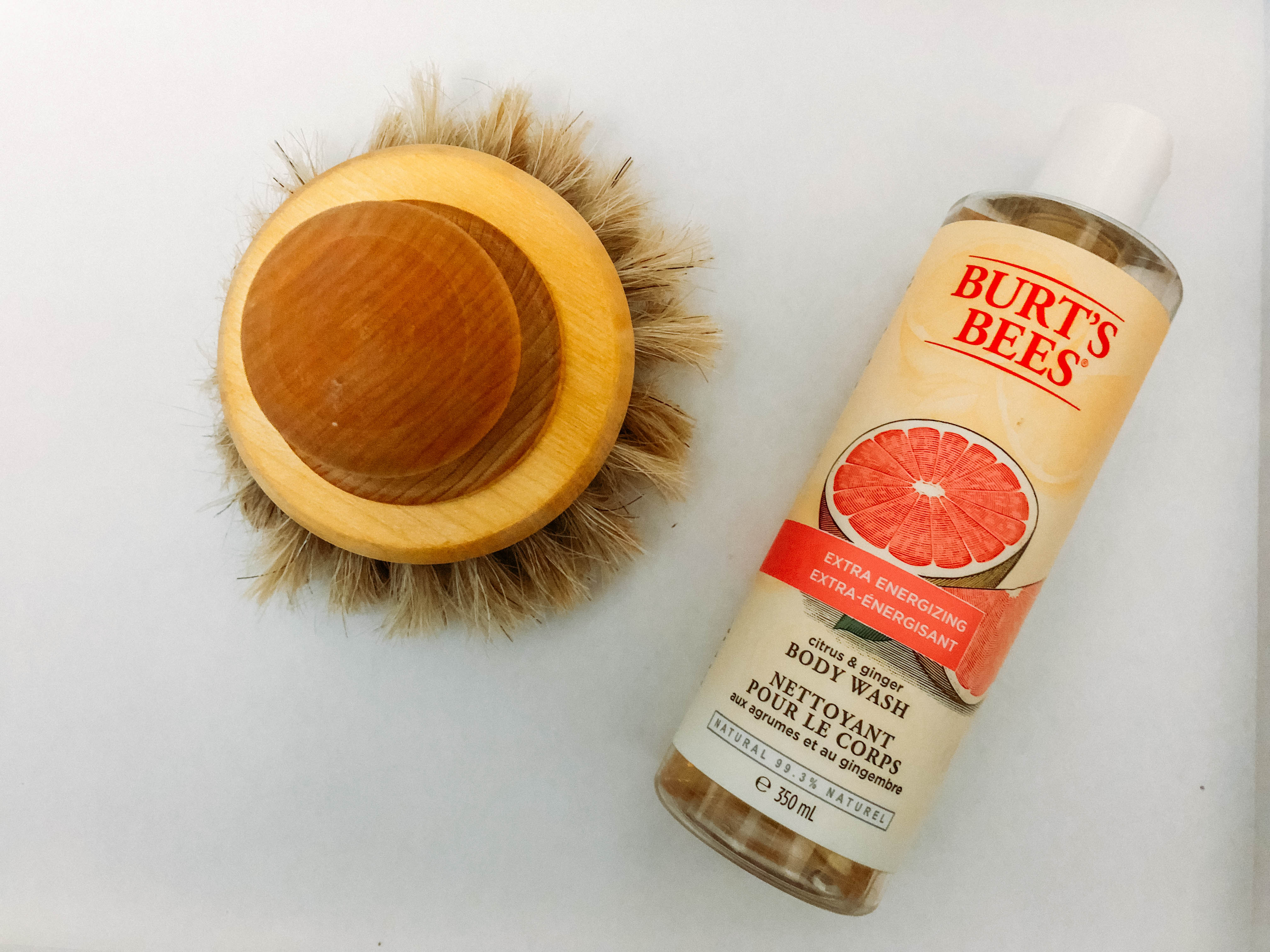 I then use a bodylotion from Urtekram, my favorite is Lavendel. Organic, cheap and smells so good without containing any perfume.
I have tried a couple of different organic deodarants over the years, most of them have disappointed me, all except Unisex from Care of Gerd. Love it and will probably use it daily for the rest of my life!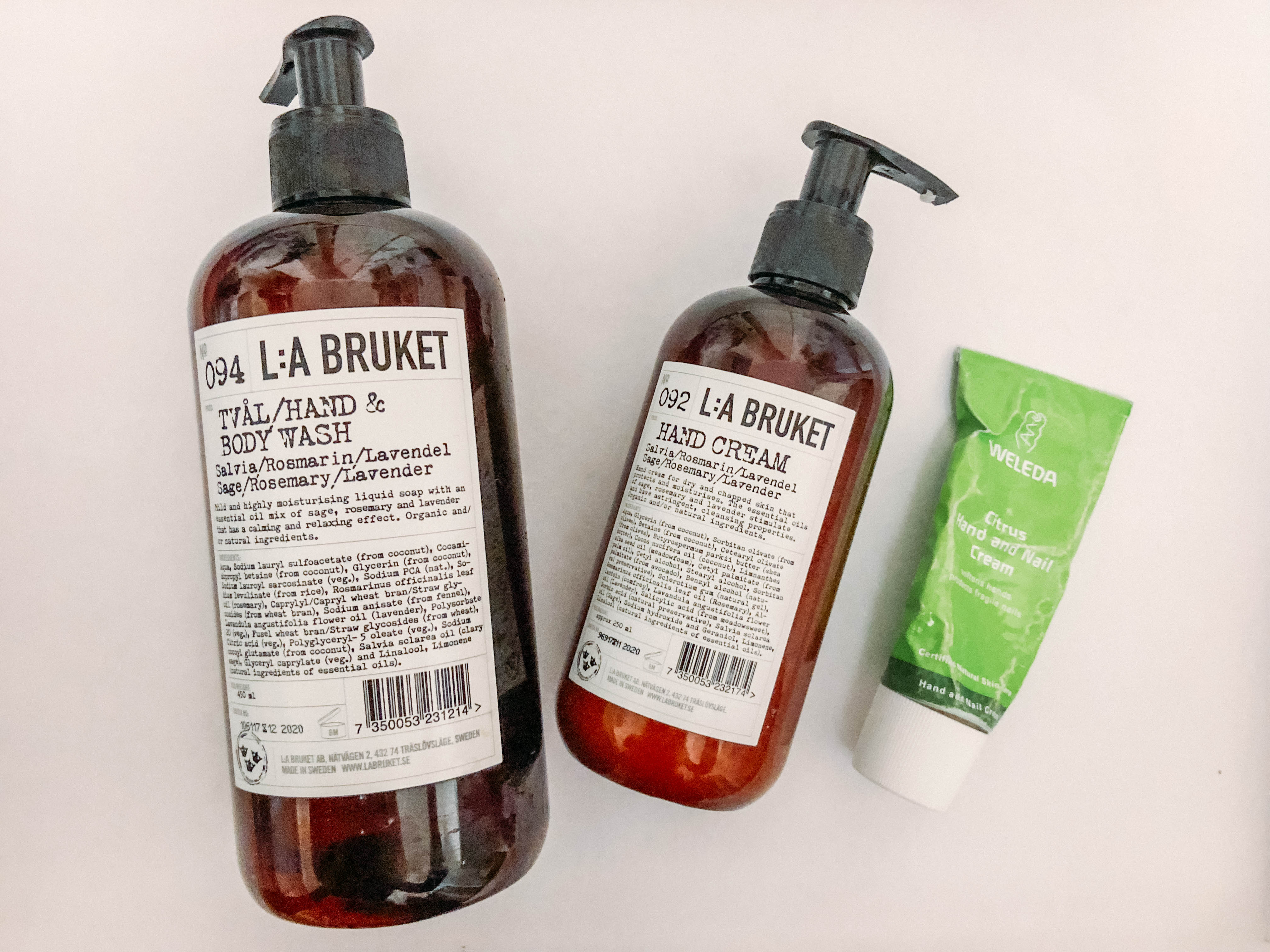 At home I wash my hands with a soap from La:Bruket, the one with lavendel and salvia. Also have the hand cream in the same scent, With all the diaper changing it becomes a lot of hand washing so am glad to have one that doesnt dry my hand out completly.
When my hand feels dry I use a hand cream from Weleda, Citrus.
I rarely ever use perfume anymore but If i do I got a natural one from Bon 100. Would´nt drink it, but is hopefully much better than regular perfume.